LEAD SINGLES COMMODITY STABILIZERS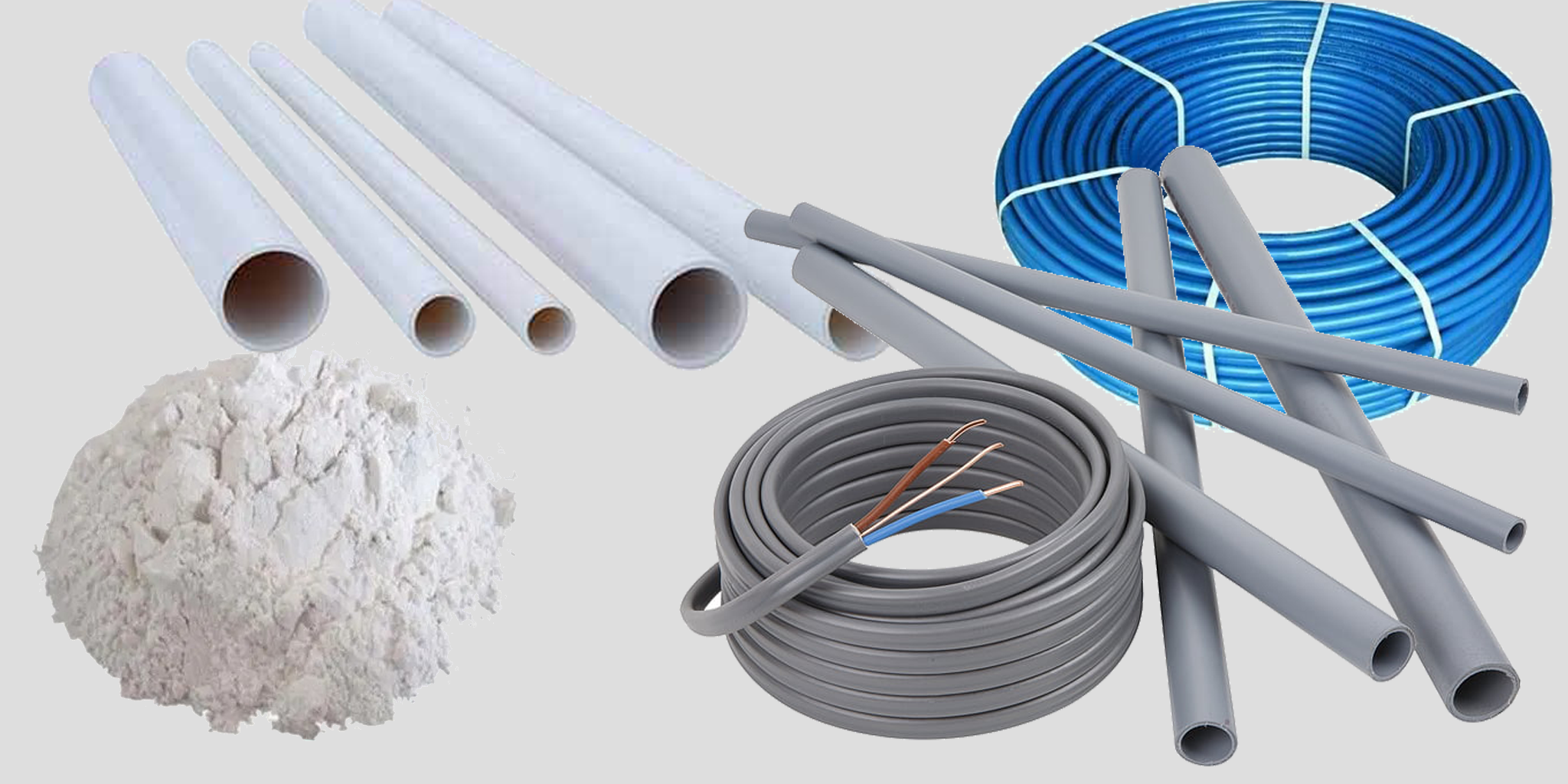 Lead singles hove excellent long-term heat stability & outstanding electrical properties. This is the reason for their dominance in PVC wire & cable insulation. We offer all the types of lead singles stabilizers.
Di Basic Lead Sulphate (DBLS)
Di Basic Lead Sulphate abbreviated from
DBLS is a white, powdery substance
that is highly toxic in nature despite its sweet taste. It has a specific gravity of 2.1 and is soluble in a variety of
substances like Hydrochloric Acid and Nitric Acid, except for water
. There are a number methods for the manufacturing of DBLS namely, the Precipitation method, a Direct process, and a Fusion process. The Precipitation Method is also known as an Indirect Method. In the Direct process, Litharge and Stearic Acid undergo a direct reaction to produce the resultant Di Basic Lead Sulphate. The Fusion Process is also called a High Shear Process where controlled temperature and pressure conditions together produce an off-white Di Basic Lead Sulphate.
Di Basic Lead Sulphate (DBLS) Usages and Application
Di Basic Lead Sulphate works best as a PVC Stabilizer owing to excellent heat and UV radiation degradation resistance properties. Major applications of DBLS are in PVC Compounds, in rigid PVC Pipes, in Cables and Wires, in PVC Profiles and Flooring, in PVC Footwear, and in Plastic Master Batches (as heat stabilizers and lubricants). DBLS has free lead oxide and free fatty acid content. Two other applications of DBLS include Calendaring and Extrusion operations. Due to the high toxicity levels of DBLS, it is not used in any food processing applications.
Tri Basic Lead Sulphate (TBLS)
Tri Basic Lead Sulphate, abbreviated into TBLS is a chemical in white powder form. It contains low molecular weight and moisture content. It constitutes about 87 to 89% Lead. TBLS is mostly used along with a lubricating substance like Calcium Stearate or DBLS. It is very stable and tolerant to heat which is why it is used in high temperature applications without fear of decomposition. It is sweet to taste but highly toxic in nature and hence is unfit for consumption. The process of manufacturing Tri Basic Lead Sulphate begins by choosing among a group of substances constituting Lead Sulphate, Lead Ammonium Sulphate, Lead Monoxide, Monobasic Lead Sulphate, Tetrabasic Lead Sulphate, and Crystalline Dibasic Lead Sulphate. The chosen substance is then treated with one among aqueous ammonia, a mixture of aqueous ammonia and solid ammonium sulphate, solutions of ammonium sulphate, and slurries of ammonium sulphate.
Tri Basic Lead Sulphate (TBLS) Usages and Application
Tri Basic Lead Sulphate is mainly used for manufacture of PVC and Stabilizers of Plastic PVC Products (also known as Board Products) like Rubber, Cables, Pipes, Artificial Leather, etc. Due to excellent electrical properties of Tri Basic Lead Sulphate, it is used for making cable sheathing. It is also used for manufacture of Pipes that convey gases and liquids. TBLS is also used for injection moulding. TBLS has excellent weather resistant properties which makes it suitable to use in outdoor water pipes, conduits, rain water down pipes, drainage pipes, and profiles in the Building and Construction Industry.
Lead Stabilizer (LS)
A One Pack Stabilizer is a pack of additives added during the processing of PVC. The additives are a combination of substances like Oxidisers, Lubricants etc. One Pack Stabilizers may be Lubricated or Non-Lubricated. Non-Lubricated One Pack Stabilizers are high performance stabilizers that are specially designed for optimum performance. One Pack Stabilizers play important roles during processing as well as during the service life of the product to which they are added.
Tri Basic Lead Sulphate (TBLS)
Stabplast'sTri Basic Lead Sulphate is a non-lubricating type Lead stabilizer, which remains stable at elevated temperature without decomposition, ensuring sound products with absence of porosity. It is an exceptionally powerful heat stabilizer with a low cost.It is pulverized to provide very narrow particle distribution for better dispersion of the product.Stabplast's products are manufactured under strict process parameters and standardized procedures to provide finest quality product every time.
Tri Basic Lead Sulphate (TBLS) is being used for manufacturing of rigid PVC pipes and fittings, wires and cables, soil pipes for conveyance of gases and liquids, rigid profiles, floor coverings, reinforced suction hoses , etc. It should be used in conjunction with Lubricants and other stabilisers such as DBLS, DBLP, LS,CS among others.
| | |
| --- | --- |
| Grade | Application |
| TBLS | Primary Heat stabilizer in PVC formulation, widely used in pipes profiles cables, reinforced suction hoses, sheets and tubing's |
| DBL Phthalate | Widely used in cable and wire compounds and in sheeting and other foamed products. |
| DBL Phosphite | Primarily used as light and Heat stabilizer, anti oxidizing and ultraviolet screening for Vinyl and chlorinated resins. |
| DBLS | Primarily used as Heat stabilizer and Lubricant in PVC formulations widely used in rigid PVC pipes, profiles, cable compounds. Also used in reinforced suction hoses, sheets and tubing's |
| LS | Primarily used as internal lubricant and stabilizer in PVC formulation. Widely used in rigid PVC pipes, profiles, cable compounds, reinforced suction hoses, sheets, tubing, petroleum greases, varnishes, paints. |
Product
Appearance
Lead content
as PbO
Lead
content
as Pb
Moisture Content
Specific Gravity
Bulk
Density
Tapped g/ml
Mesh - 240
refection
Residue on 63 m
TBLS
White Fine powder
89.0 + 1 %
82.6 + 1%
0.5% Max
6.4 + 0.2
1.6 g/ml Min
0.5 % Max
DBL Phthalate
White Fine powder
79.0 + 1%
73.3 + 1 %
0.5% Max
4.2 + 0.2
0.6 + 0.2 g/ml
0.5 % Max
DBL Phosphite
White Fine powder
89.0 + 1 %
82.6 + 1%
0.5% Max
6.4 + 0.2
1.6 + 0.2 g/ml
0.5 % Max
DBLS
White Fine powder
54.0 + 1%
50.1 + 1 %
0.5% Max
1.8 + 0.2
0.7 + 0.1 g/ml
0.5 % Max
LS
White Fine powder

30.16 + 1%
28 + 1%
0.5% Max
1.4 + 0.2
0.6 + 0.2 g/ml
0.5 % Max